Three Downturn Survival Tips From An Experienced Banker
Dairy Herd Management
By: Anna-Lisa Laca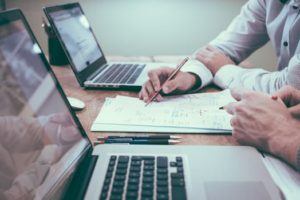 Curt Covington joined Farmer Mac in 2015 and serves as executive vice president, agricultural finance. ( Farm Journal )
Farmers throughout the agriculture industry are struggling. Low commodity prices and higher fixed costs make it tough to eke out a profit. Curt Covington joined Farmer Mac in 2015 and serves as executive vice president, agricultural finance. He leads Farmer Mac's business development efforts in the Farm & Ranch and USDA Guarantees business segments. Covington's extensive experience in ag lending spans three decades, and his passion for rural America developed at a young age on his family's grape and tree nut farm in Selma, Calif. Here are three things he says farmers can do to survive agriculture's volatile markets.
1. Mind Your Balance Sheet. Nobody likes surprises, especially your lender. Farmers (and frankly, some lenders) place too much focus on the income statement and too little focus on the balance sheet. Covington says it doesn't take a graduate degree to know tough times on the farm will eventually impact the business. Get your mind set on protecting your balance sheet for the battle ahead. Here are some concrete and common-sense steps farmers can take to ensure their balance sheet is "battle-ready" for the tougher times ahead.
2. Cash Is King, When You Have It. It's not like dairy producers are printing money at the moment. Those who have been around this industry long enough know it's just a matter of time before the market turns and dairies start being profitable again. Along with profits comes the prospects of having to decide what to do with your excess cash. What is excess cash? Bankers and borrowers alike have differing views. Here's what Covington thinks you should do with cash when you have it.
3. Be Practical With Your Feed Loans. Many dairy lenders will provide two separate loans to finance the operations on a dairy; a herd loan and a feed loan. The herd loan is intended to finance herd replacement cost and supplemental financing of general operating expenses. The feed loan should be reserved for the obvious – financing longer cycling inventories like hay and silage and occasionally, but rarely, commodities. Unfortunately, there are situations where the feed loan is used for other purposes or not used wisely. Here are a few things Covington says you should consider.
To View Full Article: Click Here