The Global Ag Demand Equation: GDP and COVID-19 Cases
AgWeb
By: Sara Schafer
The global economy's slow-and-steady rebound from the COVID-19 pandemic is good news for U.S. agriculture.
"We are an excellent producer of agricultural goods, services and products in this country — we make more than we could possibly consume," says Jackson Takach, chief economist for Farmer Mac. "So, finding outlets across the globe is a big part of the U.S. agricultural economic story."
Two big drivers in demand for U.S. agricultural products are GDP growth and COVID cases around the globe, according to research from Farmer Mac.
"There are a lot of stories out there in terms of the global economic recovery," Takach says. "Some areas are faring a little bit better coming out of COVID-19 than others. If you look at the Asian countries across the Pacific Rim you see very strong recovery: 6%, 7% or 8% expected growth in GDP heading into 2021."
Five of the top six U.S. export destinations are experiencing double-digit or higher growth rates in ag exports in the first three months of 2021 compared to the same period in 2020. China is leading the pack, with an impressive 164% increase in the value of exports in 2021, according to Farmer Mac. Other Asian nations are also experiencing a large jump in demand for U.S. goods.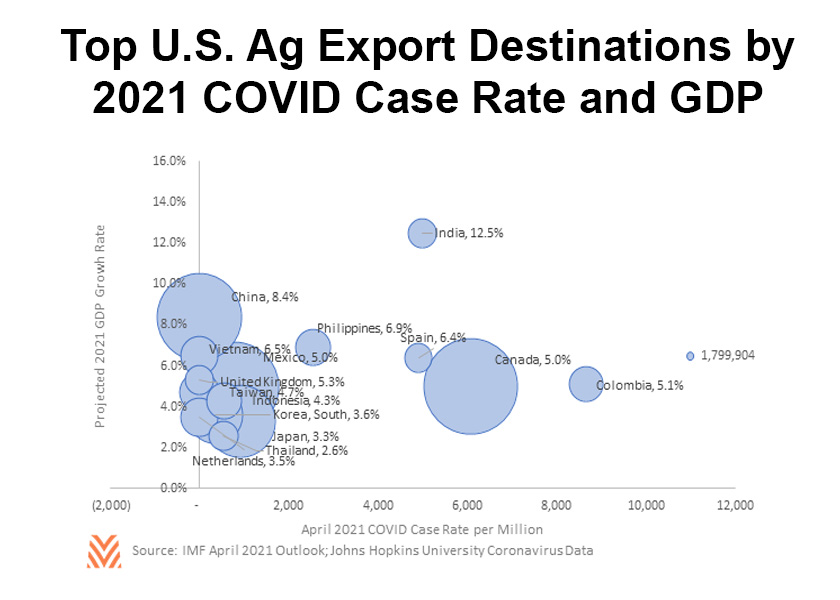 Countries such as China, Vietnam and Japan have low or virtually no current COVID-19 circulation and also have a healthy economic outlook from the International Monetary Fund (IMF). Mexico is the fifth importer experiencing a sizable demand expansion, and they too are experiencing relatively low COVID-19 circulation in early 2021.
Much of the demand growth has centered around bulk commodities like corn and soybeans, but there have been some increases in consumer-oriented and intermediate goods, according to Farmer Mac. Higher prices are a big component of the growth, but the quantity of these exports is also up double-digits in most cases.
While the outlook for most of the U.S.'s top export destinations is positive, Takach says, some are still facing challenges. Canada, a perennial top-three consumer of U.S. ag exports, experienced a surge in COVID-19 cases earlier this spring, which muted economic growth.
India also had a large spike in COVID-19 cases, hospitalizations and deaths in early 2021. India is routinely a top importer of U.S. almonds and fresh fruit, but export values are down 32% and 77% in 2021, respectively. Vaccination rates in Canada and Spain picked up considerably in April and May 2021, but India and Colombia still lag and may continue to see health and economic stress into the second half of 2021.
"So, the more of these economies that recover, and consumers head back out and their purchases resume, we can sell some of those higher value goods through their channels," Takach says. "But until the global recovery takes hold everywhere, we're still playing a little bit of a catch up in that demand for U.S. agriculture."
Read more from Farmer Mac with their quarterly publication, The Feed.
To View Full Article: Click Here