New Farmer Mac CEO meets with ICBA
Independent Banker – May 2019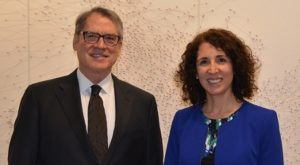 Brad Nordholm joined Farmer Mac as its president and CEO in October 2018.
Brad Nordholm, president and CEO of the Federal Agricultural Mortgage Corporation (Farmer Mac), recently met with ICBA president and CEO Rebeca Romero Rainey to discuss the company's partnership with ICBA.
Now in its 11th year, the program has generated more than $2 billion in loan volume over its lifetime. Farmer Mac offers ICBA members interest rate discounts on select loan products, among other benefits. New this year is Farmer Mac's AgXpress, a simplified application paired with preferred rates, which allows ag bankers to receive a loan approval within a single business day.
Farmer Mac is a national secondary market offering banks the opportunity to sell their agricultural real estate and USDA-guaranteed loans.
To View Full Article: Click Here (Page 10)