H-2A visas increase as farmers and ranchers look to hire more guest agricultural workers
St. Louis Public Radio
By Will Bauer — Special to Harvest Public Media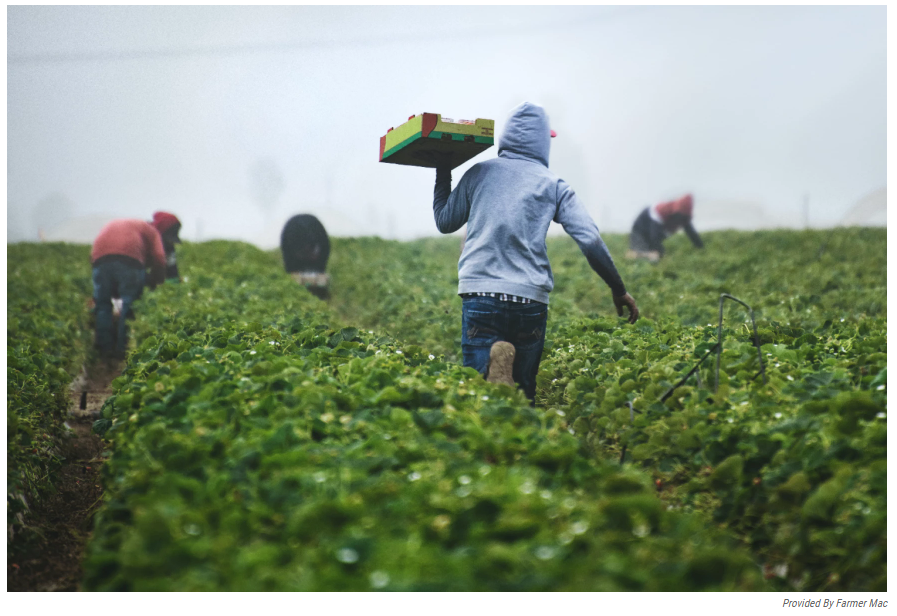 The number of H-2A visas authorized for temporary agricultural workers has been steadily increasing over the last decade.
Last year more than 378,000 workers were authorized for H-2A visas, or temporary agriculture positions, according to figures from the U.S. Department of Labor. In 2012, it was less than a third of that.
The H-2A visa program, which provides guest workers in agriculture, continues to be more heavily used by American farmers, ranchers and corporations each year.
The trend will likely continue in the next few years, according to Jackson Takach, chief economist at Farmer Mac, a lender for agricultural and rural infrastructure based in Washington D.C.
"In the short run, I expect them to continue as long as we have that pressure on labor markets," Takach said.
He recently compiled the data from the past 10 years in a Farmer Mac report.
In 2022, more than 378,000 guest workers were authorized through the H-2A program, according to data from the U.S. Department of Labor. A decade earlier, that figure stood at just 103,000.
While H-2A workers are most utilized in California and Florida, where the fruits and vegetables require more manual labor, they're also important for agriculture in the Midwest and Great Plains. Iowa tops the list of states with the most H-2A workers in the central U.S., where they often help with corn detasseling and the pork industry, followed by Minnesota and North Dakota.
H2-A workers on the rise
The number of workers who were approved for an H2-A visa by year in select Midwest and Great Plains states. Click on the chart to see more information.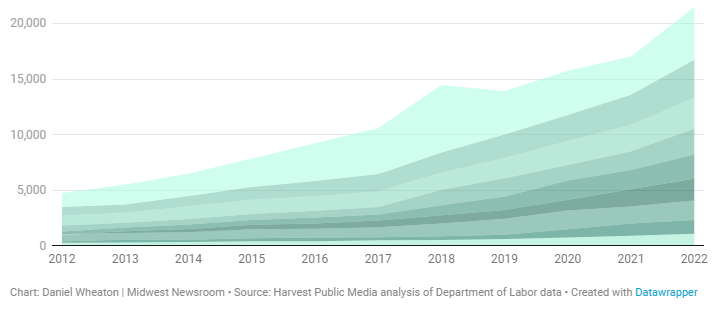 Farmers across the region say they utilize the federal program because they struggle to find local employees. That's the case for Jeff Heepke, a fourth generation horseradish farmer in Edwardsville, Illinois.
"There's just not enough people anymore to fill that gap," he said. "It's definitely a necessary workforce that we need, and it was a decision of if we're going to grow horseradish or not because we can't find workers."
While Heepke also plants corn and soybeans on his farm, he and his family can manage those crops by themselves. But his horseradish requires manual labor to plant and prepare the next year's root crop.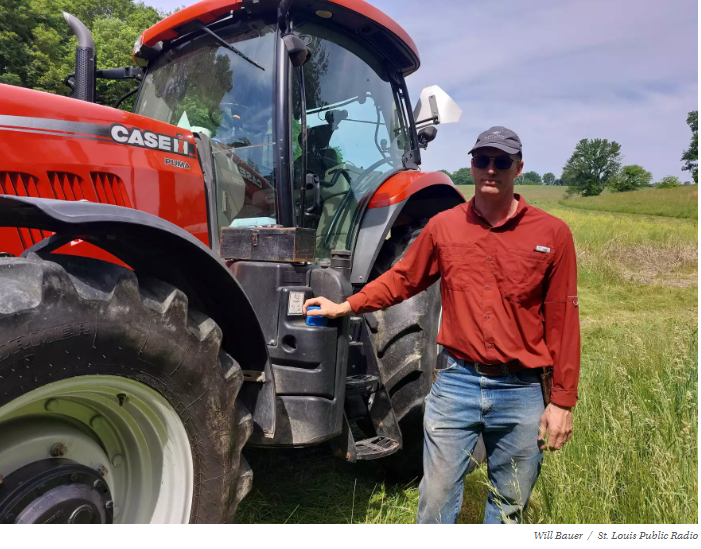 Jeff Heepke farms corn, soybeans and horseradish outside Edwardsville, Illinois. He began using H-2A visa program when he was no longer able to hire enough workers locally to help with his horseradish crop.
This past year, Heepke had six H-2A workers help with his horseradish, his second year using the program. Previously, his family employed local high schoolers and other local employees, but Heepke said he began to struggle to fill positions.
"We couldn't find anybody to come work for us, and they had all found different jobs," he said. "The job market has changed, at least for the employees we were looking for."
Proteus Inc., is a Des Moines-based nonprofit that advocates for agricultural workers in Iowa, Nebraska and Indiana. CEO Daniel Zinnel said it's easy to overlook how much guest workers help in U.S. agriculture.
"They're working from sunrise to sunset in order to provide all of us with the food that we eat every single day," he said.
The organization provides job training and educational services, as well as basic healthcare to both H-2A workers and local farmworkers, Zinnel said. The workers Proteus helps often start out making wages lower than the poverty line. The nonprofit hopes those workers exit their program making well over $35,000 per year.
"We're seeing just a growing number of H-2A visa workers coming to work in agriculture in general," he said. "We'd like to continue to provide access to care to as many of them as possible."
While Takach, the economist at Farmer Mac, expects the number of guest workers to expand while the labor market remains tight, he said at some point that could change.
"I think there's probably a limit in the long run of how many H-2A authorizations the food system really needs in a labor force," Takach said. "However, we probably won't see that in the next one or two years. It probably would take more time to develop the technology."
This story was produced in partnership with Harvest Public Media, a collaboration of public media newsrooms in the Midwest. It reports on food systems, agriculture and rural issues.
To view the full article, click here.