Future agland dividends? Volatility creates opportunity, experts say
Farm Forum
By: Mikkel Pates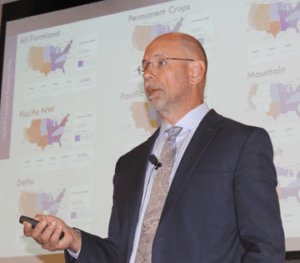 Bruce J. Sherrick, professor of land economics and director of the TIAA Center for Farmland Research at the University of Illinois, speaks June 26 at the Great Plains Land Expo in Fargo.
FARGO — Despite recent declines commodity prices, farm and ranch land prices have held relatively constant, and this could provide an opportunity both for farmers and people looking to invest in farmland.
The third annual Great Plains Land Expo, themed "Investing in Today's Natural Resources," came to the Fargo Holiday Inn on June 26, drawing some 220 registrants plus walk-ins to look at opportunities. Kevin Pifer, president of Pifer's Auction & Realty and Land Management of Moorhead, said attendance may have been affected for farmers by one of the first good weed spraying days.
Pifer's, manages some 150,000 acres of crop and ranch land in North Dakota, South Dakota, Minnesota, Montana, Wisconsin, Iowa, and Missouri. This year the event had numerous cosponsors, including Forum Communications Co., which is the parent company for Forum News Service.
The 2019 expo was billed as a "one-day university" and focused on the economics of agriculture and energy, the challenges and opportunities of owning and managing land, mineral rights, easements and investing in farmland.
Keynote speaker Bruce J. Sherrick, professor of land economics and director of the TIAA Center for Farmland Research at the University of Illinois, spoke on the theme "Headwinds and Tailwinds in Farmland Markets."
Sherrick is on the board of directors for the Federal Agricultural Mortgage Mortgage Associations ("Farmer Mac") described farmland as an asset that generally keeps up with long-term inflation, even with a few periods of dropping value.
Sherrick gave a wide-ranging description of the ag economics, but no predictions of farmland value declines.
'Idiot-syncratic risk'
Sherrick described a world of "idosyncratic risk," (later describing it as "idiot-syncratic risk," he quipped). He said social media and unfounded perceptions can have a big effect on food products and the farmers who supply them.
He noted surveys of consumers often show that a large majority of people don't want genetically modified organisms in their food, but that the majority of those can't define GMO, which is the replacement of a genetic piece from another species.
Similar percentages of consumers in surveys will say they want food "with no DNA," which is ridiculous because humans eat only other types of living creatures, such as fish, fruits, beans, and pork.
Sherrick cited a quote from the TV comedy "Portlandia," in which the character says, "I really want to know if my chicken is happy," and added, "That's an expensive thing to buy." Up-and-coming consumer trends include laboratory-generated plant-based proteins designed to replace meats. They have hidden costs that are not easy to compare to animal-based meat production and likened it to the person driving an electric car who thinks it is emission-free but don't think it through that most electrical generation requires emission.
He said that while U.S. consumers want "free from" foods, involving an array of attributes including gluten. Meanwhile, "a lot of the world wants more calories." Global demand for beef, lamb, pork, poultry, and eggs is all increasing.
Many consumers prefer organically-grown food, but noted that studies indicate organic production requires "30 percent more organic feed than actually exists." He said consumers prefer it despite the fact that organic production requires more tillage, which has environmental negatives.
Sherrick said Wal-Mart is producing more ag-related patents than major farm machine companies. He said U.S. agriculture needs to trade in order to prosper. He noted the tariff war has affected the demand patterns to China, and noted we have proposed "more tariffs than what is possible to collect."
Not the 1980s
Another speaker, Dennis Gartman, editor and publisher of the Gartman Letter since 1987, described the Trump administration's trade policies a big economic blunder.
"Once you've lost the tariff virginity, your propensity to do it again is greatly enhanced," Gartman said. "A stupid, stupid, stupid idea. And yet this gets sold to the public by the American president of the United States. Shame on him. Shame on him for doing that."
Gartman said he sees $5 per bushel corn as a "certainty" for 2020, and $6 per bushel corn as a "likelihood" and $7 per bushel corn as a "possibility." This is the result of poor planting conditions for the 2019 crop that reduce acreage by 10 to 15 percent, as well as poor production of seed this year for the 2020 crop.
"I'm a big supporter of immigration," he said.
He said he voted for President Donald Trump and is "to the right of Genghis Khan" but said he is a big promoter of making it easier to immigrate into the U.S. to offset the reduction in population.
"You need population growth to keep an economy moving forward," he said. "Shame upon my fellow Republicans for being as openly antagonistic toward immigrants as we are."
As for cultural changes, "Cultures change," Gartman said. "Perhaps cultures change a little too quickly for people."
He said he isn't kept awake at night by the U.S. trade deficit or deficit spending. But he is troubled by the potential of a Chinese military rise, which could end in war, maybe 20 or more years into the future.
To View Full Article: Click Here