Farmer Mac Early Exclusive: Bankruptcy Rates Really Haven't Budged
AgWeb Powered by Farm Journal
By: Tyne Morgan
Rising farm debt is a product of agriculture's financial environment today. According the summer edition of Farmer Mac's "The Feed," U.S. Department of Agriculture (USDA) shows total inflation-adjusted farm debt increased nearly 19 percent in four years. Debt from farm real estate is also in an uphill trend, with faster annual growth from 2012 to 2016 than seen in the previous decade.
However, in an early exclusive, Farmer Mac says whether the income, asset, and debt trends will lead to repayment challenges remains to be seen. Today, the reality is many farmers and ranchers continue to navigate through already weak cash-flow situations, which is leading to financial adjustments, and in some cases, debt repayment challenges.
"We see a slowdown in prepayment rates coming through the end of 2017," said Jackson Takach, an economist for Farmer Mac, who co-authors of "The Feed." "That's natural as you see a rising rate environment, as I think that plays into it with folks wanting to hold on to the lower rates as long as possible."
Takach says as interest rates rise, borrows will try to refinance into longer-term products in order to possibly repay loans at a slower rate.
"That's a big thing for the long-term rates when you think about the real estate markets and the real estate lending, which Farmer Mac is really interested in," said Takach "That's our primary market. That's why we think we're seeing a little bit of a slowdown in the prepayment rates, that interest rate interaction with demand function."
Takach says when looking at the operating side of loans, he's seeing some signals of stress.
"I think most of that is it's a tighter profitability year last year," said Takach. "2017 wasn't the best year on the books for a lot of farmers, and so being able to roll into the next year is a function of a little bit of stress I think in the industry."
"The Feed" also gives another look at the farmer's ability to repay loans by looking at the ratio of debt to cash earnings.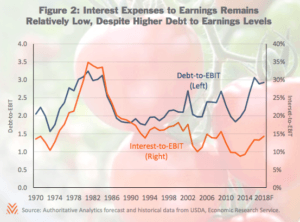 Farmer Mac says after surpassing 3.0 in 2016 for the first time in 32 years, agriculture's debt to earnings before interest and tax (EBIT) is expected to be below 3.0 for the second consecutive year.
The low interest rate period has been helpful for debt repayment during a time of continued economic headwinds; a factor that could explain why agricultural financers haven't seen a sharp jump in delinquency rates.
"Delinquency rates through the end of the year for banks – and for us here at Farmer Mac – have all held really steady, if not gone down throughout 2017," said Takach. "That's a pretty telling sign, I think, to the financial health of the ag economy."
Takach said some of that may be tied to a rolling of debt. As farmers have the ability to roll notes from year to year, that may be masking some of the hardship.
"There was also a really good timing this year on commodity price movements," said Takach. "This rally that we experienced in January, February, March came at a time when a lot of people had loan payments due. So, the timing of these cash flows came in at a very opportune time for us, which means that delinquency rates have been fairly low."
It's also bankruptcy rates that aren't at alarming levels to creditors like Farmer Mac, another outcome of many farmers tightening their belts in order to fight through tough financial times.
"The bankruptcy rates are really low from say 2014 to 2016, and so the rates through 2017 look to be a little bit closer to historical averages, and that's looking at most of the districts in the Corn Belt and in the southern Plains where we would expect to see an uptick in delinquencies during a down cycle in agriculture," said Takach. "The rates really haven't moved. They've come up a little bit more towards historical norms but not at a rate or trajectory that would alarm me."
As farmers look at ways to continue to stand on financial footing, Farmer Mac says there are still options for farmers who are seeing depleting balance sheets, including restructuring farm loans.
To View Full Article: Click Here