Cattle Margins Forecast to Grow, As Weather and Feed Costs Are Wild Cards for 2021
AgWeb
By: Tyne Morgan
Plunging temperatures and constant snowfall are proving to be a challenge for cattle producers right now, but weather challenges in raising cattle are a struggle every year.
"What we ran into in the late spring and summer was extreme heat, drought, and — because of our really hard winter, cold, wet winter in 2019 — everybody used up their hay stocks completely, it made people a little bit edgy," says Lew Thompson, a cattle producer in Pearsall, Texas. Feed issues started in 2019, and when the rains started to shut off, the challenges only grew.
"When they didn't get that in the fall, it almost pushed the panic mode that they just started selling cattle," Thompson says.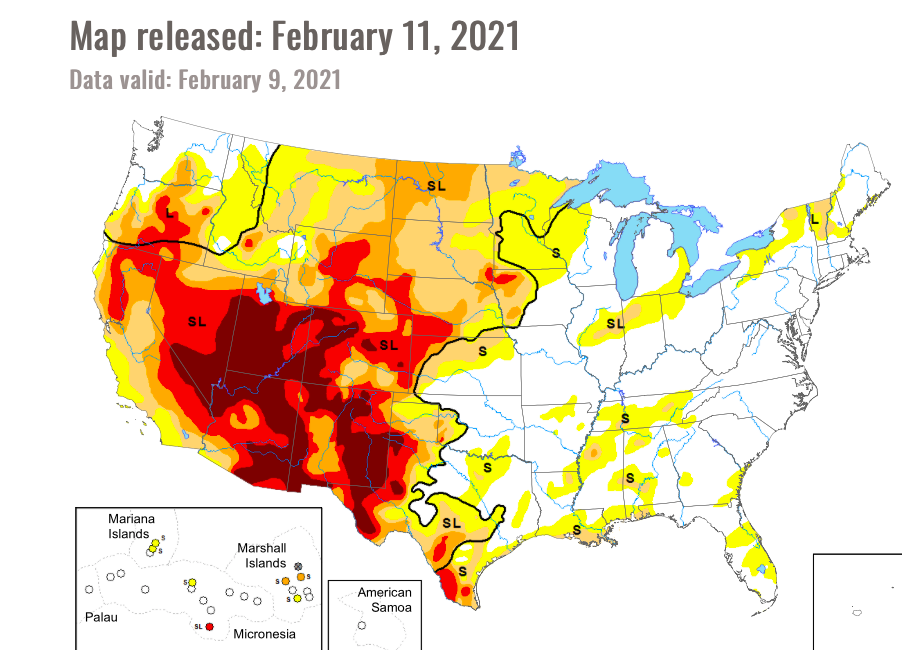 The drought picture today tells the story best. Dryness is parked over the southwest, with the most severe level of drought spanning across west Texas and the four corners region.
"In general, we're down about 1.3% in the total numbers since the peak of cattle numbers in 2019," says Greg Henderson, Editor of Drovers.
Henderson says the U.S. cattle inventory numbers show a projected slight decline in overall numbers.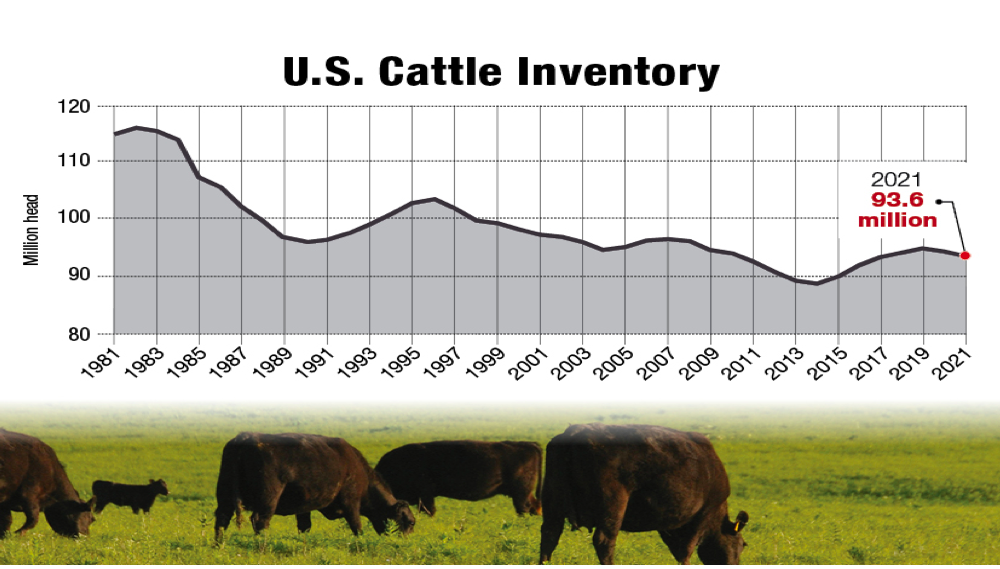 "The weather will have a large impact," Henderson says. "We see in this latest report that Colorado's cowherd is down 14.5% just from last year."
But the latest inventory report didn't indicate major liquidation was taking place in drought-stricken states — a shock to Don Close, a senior protein analyst for Rabo AgriFinance.
"My initial reaction to the WASDE report was somewhat disappointed in the fact we did not see the level of liquidation that so many were looking for," Close says.
Instead, USDA indicated an increase in beef cow numbers in Kansas, Oklahoma and even Texas.
"And given a lot of the dry weather concerns we had through 2020 on and off, and then the risk we have in the expansion of the drought in the West, moving across the central or southern states for 2021, I just have a little bit of uneasiness that expansion and female numbers may be a bit vulnerable if we do get into real weather complications this summer," Close adds.
Close still thinks cattle producers are looking at better pricing opportunities in the back half of 2021.
"The concern with the increased numbers of cattle on wheat, is that might buffer that perspective a little bit," Close says, "but we're still looking at a tighter availability of replacement capital. We're still going to look at reduced supplies of cattle in the feedyard for the second half of the year."
As cattle prices trended higher in January, Sterling Profit Tracker's John Nalivka thinks demand could lend a hand to prices sooner.
"Everybody always looks for pullback, but at the same time, I think February's a good beef month, so I think we're heading toward moving into this scenario of higher prices."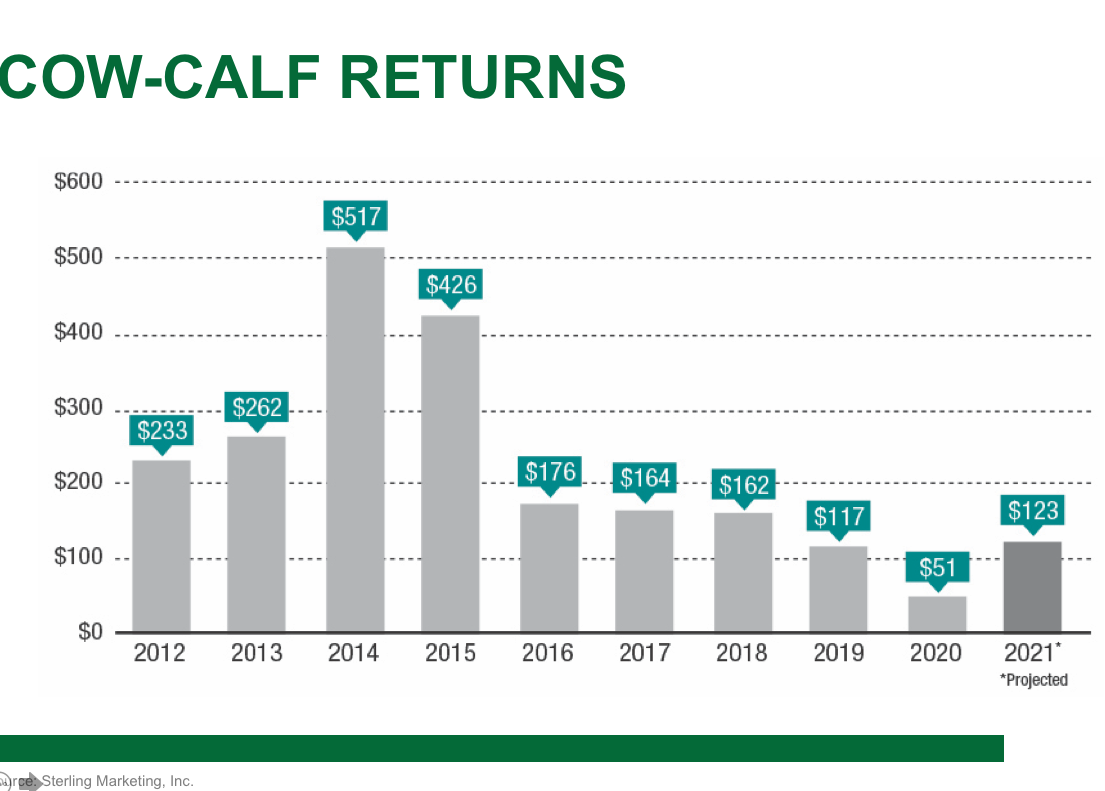 Sterling Profit Tracker expects cow-calf returns to beat 2020 and 2019 but fall short of profits producers experienced in 2018. The feeder forecast is also similar.
"My forecasts for feeder cattle and calves would bring us back to where we were in about 2019," Nalivka says. "That's against this pretty significant drop we saw in 2020."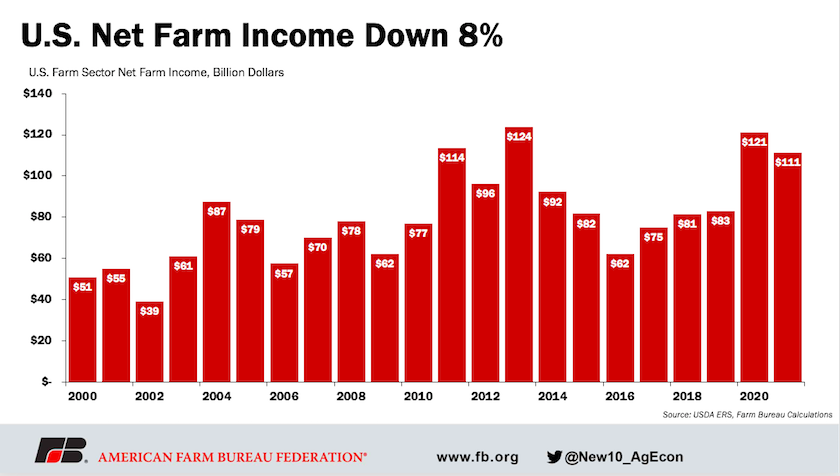 Improved prices are aiding USADA's February net farm income forecast for this year, but with fewer government payments expected, USDA's first look shows net farm income to drop 8% from 2021.
"If you go back and you look at prior years of USDA forecasts, we find it's about 13%, on average, too low," says Jackson Takach, chief economist for Farmer Mac.
Takach says while USDA is using a corn price figure more than a dollar below levels today, the cattle price number is more in line with the prices producers are already seeing.
"There is room for potential for upward revisions in the livestock protein sectors," Takach says, "but that's going to require I think, some changes in the marketplace.
One University of Missouri economist thinks the lower corn price also means USDA might not be figuring in the real impact of higher feed costs.
"One where we think they might be a little bit on the low side, frankly, is on feed, where they have a modest increase in feed costs projected," says Pat Westhoff, director of University of Missouri's Food and Agricultural Policy Research Institutes (FAPRI). "But given where corn and soybean oil prices are a little surprising, they're showing a larger increase than they are."
To View Full Article: Click Here