Behind-the-Desk Insights
AgWeb
By: Sara Schafer
Overall, 2020 brought continued stress to the agricultural economy, according to a recent report from Farmer Mac and the American Bankers Association (ABA) that surveyed nearly 500 loan officers, managers and executives.
On average, ag lenders reported slightly less than 51% of their agricultural borrowers were profitable in 2020. This is down from 57% in 2019. More than half of lenders listed liquidity issues for producers as their top concern.
Since the survey was taken in August, commodity prices have rebounded substantially, notes Jackson Takach, Farmer Mac chief economist.
"We're looking at a much healthier ag economy toward the end of 2020," he says. "The combination of government support payments and higher commodity prices in the last few months of the year, will be a nice cash infusion into the sector after several years of being a little cash strapped."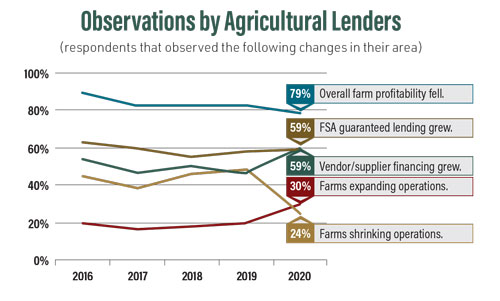 To View Full Article: Click Here